Your Filing System in Today's World
Instantaneous Capture & Retrieve
Continuity is key and with FileDirector SBE & Enterprise editions we take your filing system and make it exceptional.
With our user friendly & customised interface, your "That's what we call it" today is "That's what we call it" tomorrow. We will work with your team to create an intelligent electronic document management system that reflects your organisation and enhances the way you and your company works.
Recording, Indexing & Retrieving documents just became instantaneous. FileDirector works with most scanners and its unique Microsoft Office integration allows you and your staff to file documents, tables and emails with a click of the mouse.
Traditional hard copy documents have a single path to locate it. With FileDirector we enhance your document with multiple levels of indexation. Allowing you to find your document with the information you have.
FileDirector takes productivity one step further with its OCR (Optical Character Recognition) zones in the document via text or barcodes. This ensures the document is captured and indexed correctly & automatically every time. And with our Full Text OCR feature you can also search for a word or phrase contained within the document.
Download Brochures 
Document Capture
OCR & Barcode
Secure & Comply!
FileDirector provides a level of document security unimaginable with traditional storage. Access rights to a particular document are achieved with a simple click. This gives you unprecedented control on who can view, create, delete, edit, print or download any document.
Your company can not afford being up to date when it comes to regulatory matters and your documents and there storage should be no different.
Audit trails, MailStore, recording of documents, retention periods and monitoring, FileDirector comes out of the box with a range of functions to help you control these processes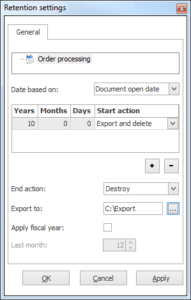 Download Brochures 
Security
Compliance
Audit Trail
MailStore
Integrate & Boost Productivity
Integration with your company's existing programs is vital, as it is a proven fact that stand-alone solutions do not bring about increases in productivity. FileDirector works together with your existing applications to provide maximum advantage to you and your business.
FileDirector's unique Codeless Connector uses predefined links to connect with most third party programs. The exceptional part is that the linking of your existing applications to FileDirector via these paths means that not even a single line of programming code needs to be written. Working together was never easier, faster or more cost effective.
Download Brochures 
Integration
Codeless Connector
Google Mail Plugin
Your Filing System Anywhere In The World
Not in your office? Need access to a document? FileDirector's Web Server completes the comprehensive electronic document management solution allowing you access anywhere you can find an Internet connection. With iOS & Android interfaces, FileDirector provides your company with the flexibility essential in today's working environment
Download Brochures 
Now on the Cloud
FileDirector offers a powerful, cost effective and easy to use cloud based electronic document management solution for enterprise clients, small businesses, or workgroups where there is business critical processes.
Cloud Computing Software as a Service (SaaS) allows a business the potential to reduce IT operational costs by outsourcing hardware and software maintenance and support to the cloud provider. This enables the business to reallocate IT operations costs away from hardware/software spending and personnel expenses, towards meeting other IT goals.
Unlike traditional software which is conventionally sold as a perpetual license with an up-front cost (and ongoing support fees). Our FileDirector Cloud SaaS provides an option for a monthly, quarterly or annual subscription fee, which includes regular updates, comprehensive back up/redundancy and ongoing support.